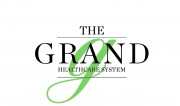 The Grand Healthcare is giving away a grand! The Grand Healthcare System is launching a new marketing initiative to introduce their fresh new brand.
November 12, 2014 (Newswire.com) - The Grand Healthcare System is launching a new marketing initiative to introduce their fresh new brand. Their advertising campaign invites the public to join them as they introduce the company to the towns and cities in which their facilities for nursing and rehabilitation are located.
Those who participate are asked to submit their most inventive, fun and striking ideas to their campaign site www.paintthetowngrand.com. Winners can win prizes up to $1,000 in cash.  The campaign is slated as an advertising strategy to elevate the company's identity within these communities and to boast its distinctive collection of trusted healthcare and rehabilitation services.
Entering the contest is  simple folks  snap a picture of The Grand Healthcare System logo on their house, car, boat – or anywhere else that may make their picture standoud. Submissions should be posted to the official website, as well as to Twitter, Facebook and Instagram, with the tag #paintthetowngrand. One winner will be chosen from each of the four towns that the campaign currently targets, including Rome, Chittenango, Pawling and Queens.
Entrants can view submissions on the company's Facebook, Twitter  and Instagram pages and are encouraged to think outside the box.
Jeremy B. Strauss, The Grand Healthcare System's Chief Executive Officer explains, "Creativity inside of the healthcare world is crucial to its success and advancement. We at The Grand recognize that fact and wish to celebrate it with the Paint The Town Grand contest. By encouraging local community members to flex their creative muscles, we hope to inspire more creative types to enter the Healthcare field and help us advance into the future."
Strauss concludes "The launch of our new brand logo kicks-off a new era at our facilities that speaks to who we are as a company and that we are a direct reflection of the communities we serve – expressive, dynamic, modern and bold."
The Grand Healthcare System is a New York based consortium of skilled nursing and rehabilitation facilities. The Grand provides a host of services ranging from bariatric rehabilitation to specialty hips and knees post surgical recovery.
Share: